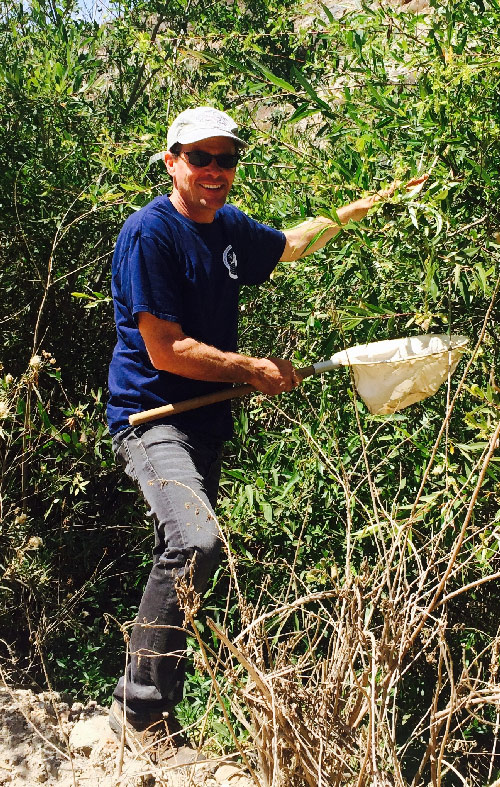 David Holway
Professor of Ecology, Behavior and Evolution
David Holway received a B.A. in zoology from UC Berkeley and a Ph.D in biology from the University of Utah. He joined the UC San Diego faculty in 2001 and has served as campus director of the UC Natural Reserve System and chair of the section of Ecology, Behavior & Evolution.
Jess Mullins
PhD Student
Natural disturbances such as flooding, drought, and wildfire increasingly impact biodiversity. Wild bees play key ecological roles in the wake of such disturbances, as they provide pollination services that promote recolonization by plants. Jess is interested in how native bee diversity responds to large-scale disturbances, and which life history traits (diet, nest location, nest architecture, sociality) are best represented among colonizing species. Jess is also interested in competition between native bees and honey bees, plant-pollinator networks, and how pathogens impact bee reproductive biology. She has an MS in Museum and Field Studies from the University of Colorado Boulder, where her thesis research assessed the response of the urban wild bees to an extreme flood on Colorado's Front Range.
Mullins, J.L., Strange, J.P., Tripodi, A.D. 2020 Why are queens broodless? Failed nest initiation not linked to parasites, mating status, or ovary development in two bumble bee species of Pyrobombus (Hymenoptera: Apidae: Bombus). Journal of Economic Entomology 113:575-581.